2016 USA Solar Power International

Solar Power International (SPI) generates success for solar energy professionals and the global solar industry. SPI is ranked #109 in the Top 250 Largest Trade Shows (by Trade Show News Network), making SPI the largest solar show in North America. In addition, SPI is a Gold 100 trade show (as ranked by Trade Show Executive), making it the only solar show to make both lists.
Solar Power International (SPI) 2016
Location:Las Vegas, Nevada, USA
Start Date:12-Sep-2016 End Date:15-Sep-2016
Focus:Photovoltaic
Booth No:W409
Huizhou Wisdom Power Technology Co., Ltd
Contact Email:info@bullspower.net
Welcome to visit Our Exhibition in Las Vegas Convention Center,North Hall & Westgate Hotel Las Vegas, NV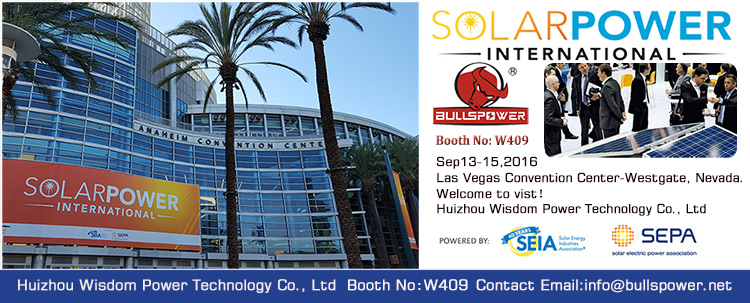 The exhibition's brief introduction:

The international exhibition of Solar energy (Solar Power) by the American society of Solar Power, Solar industry association hosted in the United States, is one of the largest photovoltaic Solar trade show in North America.The meeting was founded in 1995, as the exhibition in San Francisco in 2004, the beginning, after the exhibition tour in the United States each year, for the international solar energy industry has set up a B2B platform for the fruitful success.The United States and the world numerous solar industry organization released in this exhibition of new products, looking for a new technology, the development of new trade opportunities, maintain old customers.The international solar show has become the platform for the formal solar industry, is the world's countries enterprises to exploit the forefront of the north American market.
Concentrated solar power is a focal point of the solar industry in the United States, of 80% of the total installed capacity is concentrated solar power system.Photovoltaic solar panels are widely distribution of each big state in the photovoltaic field all over the United States.According to the sun can industrial association, is now under construction in concentrator photovoltaic field and photovoltaic panels plan installed capacity of 10086 mw and 3507 mw respectively.
The association in 2008, more than 2008 sets of solar water heater system, becoming the second in the world after China every 10 families have 1 set of solar water heating system.Because of the U.S. government and residential building society in the promotion of "zero emissions architecture" plan, this number will expand to installation, and will cover the commercial buildings and other categories.
The last review:
The exhibition in 2015 in California Anna haim international conference and exhibition center, successfully attracted more than 28000 professional visitors from around the world and more than 950 exhibitors, including more than 60 Chinese solar enterprises.The international solar show (SOLARPOWER) has become North America's largest and most influential solar industry event.
Exhibition range:
1. The solar panels, flat photovoltaic modules, concentrated photovoltaic components, silicon materials, thin film battery components;
Inverter, battery, charger, support systems, for tracking system, cable, and junction box, laminating machine, plastic projection lens;
2. The photovoltaic modules photovoltaic glass processing machinery, processing machinery, the solar cell processing machinery, product assembly line equipment, photovoltaic components processing machines, laser equipment;The solar water heater, solar refrigeration system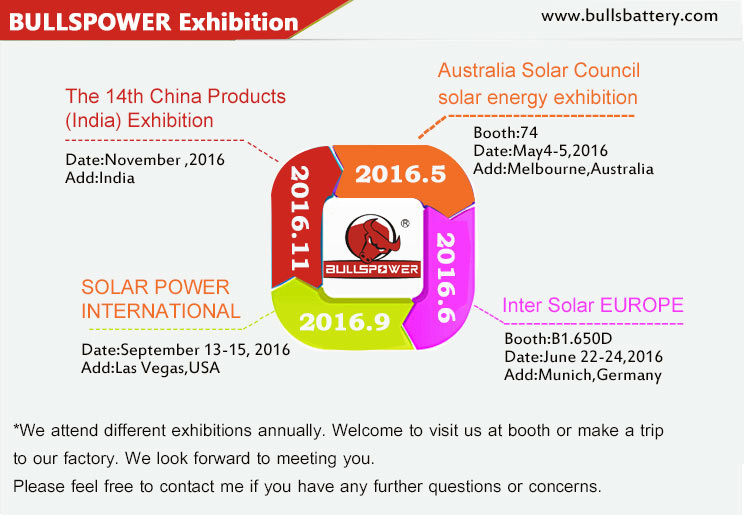 Please click on the more about solar energy products:
2V-12V Solar Gel battery 1KW-20KW entire solar system Motive power battery LIFEPO4 battery