Solar dominated renewable energy world possible by 2050, and cheaper
A global energy system – including heat and transport – that is 90 per cent renewables and dominated by solar, is not only possible by 2050 – it will also be cheaper.
A 4-year study from Finnish-based LUT University and the German-based Energy Watch Grouplooked at how to meet the 1.5°C target of the Paris climate treaty, and found that the most effective, quickest and cheapest means was to switch just about everything to electricity, and power it with solar and other renewable energy technologies.
"A global transition to 100% renewable energy across all sectors – power, heat, transport, and desalination before 2050 is feasible," the study concludes. In fact, the authors say, it could be done quicker than that.
"Existing renewable energy potential and technologies, including storage, is capable of generating a secure energy supply at every hour throughout the year.
"The sustainable energy system is more efficient and cost-effective than the existing system, which is based primarily on fossil fuels and nuclear. A global renewable transition is the only sustainable option for the energy sector, and is compatible with the internationally adopted Paris Agreement.
"The energy transition is not a question of technical feasibility or economic viability, but one of political will."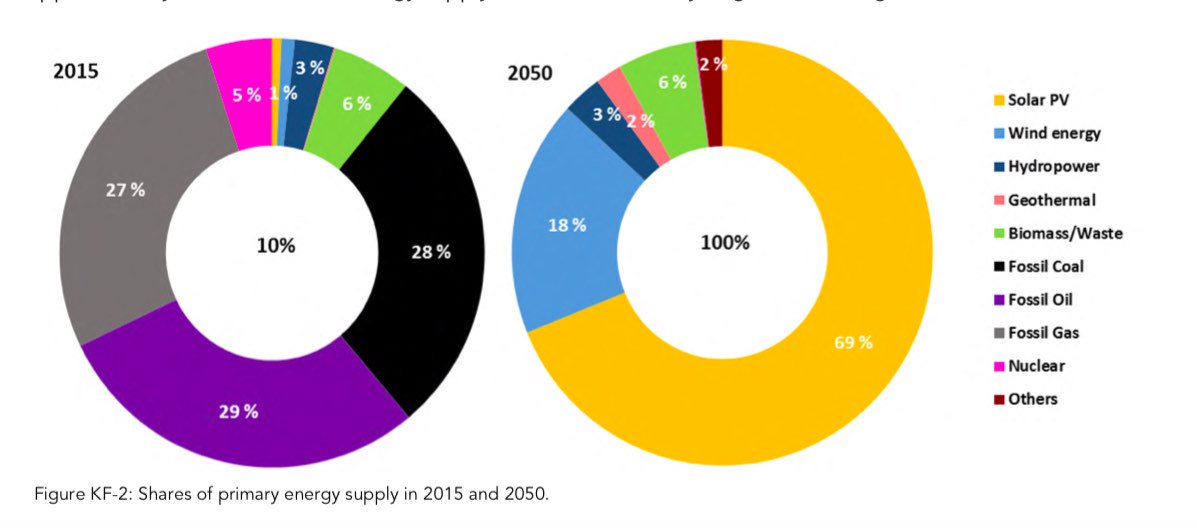 This latter point – that the transition is more a matter of political will and technology and business culture, rather than the technology itself , is an emerging theme.
It has been noted by energy researchers in the US, by China's State Grid, by the National Grid in the UK, and in Australia.
The major finding of the LUT report is that the shift to electrify just about everything – heat, manufacturing, transport and desalination – combined with a growing population and economic growth means that total global electricity generation will be four to five times higher 2050 than it was in 2015, or 150,000 terawatt hours.
The electricity system itself will need to be 100 per cent renewable, dominated by solar (69 percent), wind (18 per cent), hydro (3 per cent), bioenergy (6 per cent) and geothermal (two per cent).
Consumption of fossil and nuclear energy resources in all sectors will cease completely.By 2050, the 300-page study says, wind and solar power are produced virtually exclusively from decentralised local and regional generation.
The good news is that it will be cheaper, cleaner and create more jobs, according to this modelling. Wholesale electricity costs for a fully sustainable energy system will decrease from a global average of €54/MWh in 2015 to €53/MWh in 2050, with the price electricity falling sharply from €78/MWh to around €54/MWh by 2050, while heat costs rise from around €39/MWh to around €48/MWh.
The transition in all sectors will reduce the annual greenhouse gas emissions in the energy sector continuously from roughly 30 giga-tonnes of CO2-equivalent in 2015 to zero by 2050.And it will be good for jobs – resulting in employment for 35 million people worldwide.
Some nine million jobs in the worldwide coal mining sector from 2015 will be phased out completely by 2050 and will be replaced by the over 15 million new jobs in the renewable energy sector.
"The study's results show that all countries can and should accelerate the current Paris Climate Agreement targets," said Dr Christian Breyer, professor for solar economy at LUT University who led a team of 14 scientists who spent four and a half years analysing data, and correlating its findings with numerous
"A transition to 100% clean, renewable energies is highly realistic – even today, with the technologies currently available," he said.
Professor Dr Claudia Kemfert, the head of the Department of Energy, Transport and the Environment at the German Institute for Economic Research (DIW), said the study demonstrates "that a transition to renewable energy sources worldwide is not only feasible, but also makes economic sense."
Still, there are some mind-boggling figures included in the study. Electricity consumption per capita increases slightly from over 3MWh/person in 2015 to over 4 MWh/person by 2050, while total heat demand increases steadily from around 38,600 TWh(th) in 2015 to 52,500 TWh(th) by 2050.
To power this, some 63,380GW of solar power will be needed. To put that into context, the world currently has around 300GW, and Australia has a little under 10GW. Total wind capacity will be 8,130GW.
The total levellised cost of electricity – including generation, storage, curtailment and some grid costs is put at €53.6/MWh, with a range of €33 to €66/MWh for three-quarters of global power demand. (It will be higher in some areas with poor wind and solar conditions).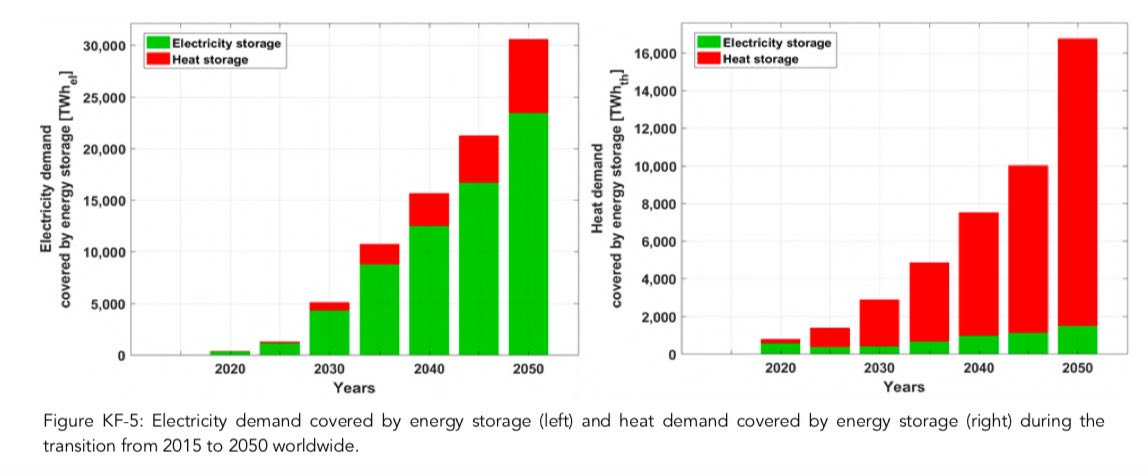 Battery storage accounts for 92 per cent of all energy storage, with pumped hydro (currently the biggest provider of storage) playing only a minor role. Battery storage mainly plays a role in providing diurnal storage with around 33 per cent of the total supply, and a lot of this comes from consumers themselves with domestic and business solar and storage systems.
The authors note that total losses (curtailment, storage, grids) in a 100 per cent renewable energy-based electricity system are around 25 per cent of the total generation.
This includes curtailment (4.2 per cent), storage (13.6 per cent) and grid losses (7.7 per cent).
This may sound a lot, but the authors note it is significantly more efficient than the current fossil fuel-based system, which experiences huge losses (56 per cent) from primary energy to final electricity demand. Indeed, the 150,000 TWh of final energy demand is around one half of what would be needed if fossil fuels continued to dominate the world's energy supply.