Railroad Electric Locomotive power battery
Railroad Electric Locomotive power battery
Railroad Electric Locomotive/ Railroad Passenger Car/ Railroad Diesel-powered Locomotive series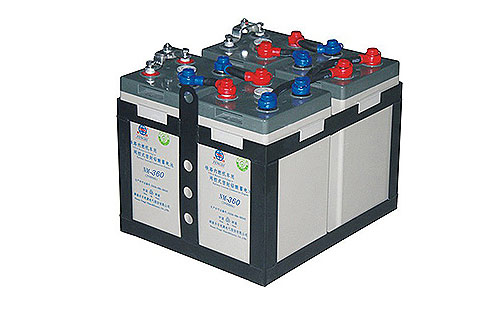 The DLM TM NM series are designed and developed by FENGRI Group. It adopts the latest modern technology, having a new structure with safety valve and special pole seal. It has many advantageous features, such as, good resistance to impact and vibration, long cycle life, low self-discharge rate, high specific energy. There is no free electrolyte and no acid damp under the normal usage.
Products characteristic
Choose special structure and multi-level sealed technology, which can assure batteries not to leak electrolyte under vibration environment.
Valve-regulated sealed, the safe valves automatically balance gas pressure inside batteries, and prevent explosion, safety and reliability are for users.
Choose advanced AGM separating plates, which make electrolyte totally absorbed between pole plates and separating plates, gas combined efficiency is more than 98%, no acid fog escapes and not rot equipment.
Choose high-Sn low-Ca plates and special plate design, lower rot rate, effectively prolong battery life.
Choose bed large area copper cores as battery poles, strong current discharging features are better.
Choose burn-proof, super strong ABS materials as battery poles, effectively assure batteries burn-proof and vibration-proof and shock-proof.
Choose high-quality raw material, limit self-discharging in the lowest level.
Advanced technics formula and strict technics control assure batteries full capacity and whole feature reliable.
Application
Railroad Electric Locomotive
Railroad Passenger Car
Railroad Diesel-powered Locomotive
Standard
Q/BUAX006-2010 Valve-regulated Sealed Lead-Acid Battery
TB/T 3061-2008 Valve-regulated lead-acid batteries for locomotive and rolling stock.
GB/T 7404.1-2013 Lead-acid battery for locomotives and rolling stock-Part 1: Valve-regulated lead acid for electric and subway locomotives
GB/T 7404.2-2013 Lead-acid battery for locomotives and rolling stock-Part 2: Valve-regulated lead-acid for diesel locomotives