Cooperation Strategy between DB Schenker and Bullspower in 2017
February 14, 2017, DB Schenker duties RDM Sabbatino, Antonello visit wisdom power, Antonello resident in Hong Kong, specializing in the South China region import and export business in Italy.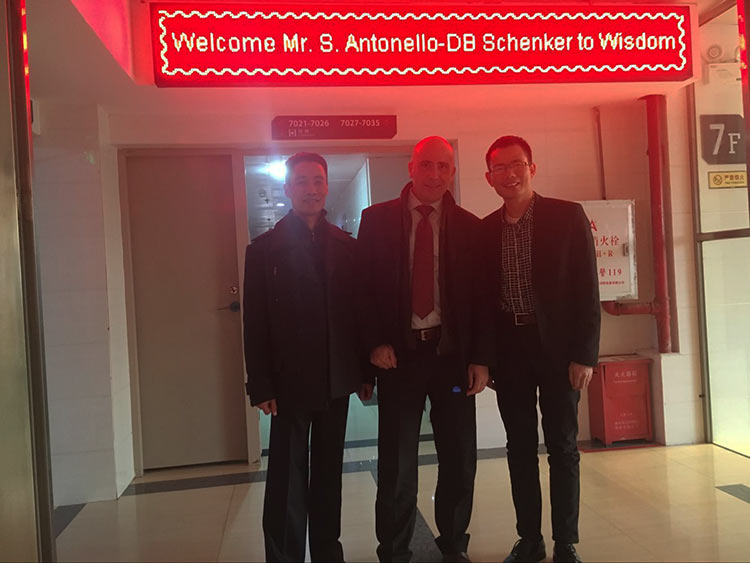 DB Schenker for the global international freight forwarders (China) Co., Ltd., belonging to the world's top 500 German railway. Is a 140-year history of the world's leading integrated international logistics services company. DB Schenker provides strong support to industrial and commercial enterprises, including land transportation, global shipping and air transport, and all associated logistics services. Its business scope covers freight forwarding, logistics integration services, supply chain management programs, and even the Olympic Games, exhibitions and other special logistics services. Is the world's leading international freight forwarding companies and third-party logistics companies.
DB Schenker or the IOC's designated freight forwarding business and therefore fame international logistics industry. Has become the exclusive supplier of the 2008 Beijing Olympic Games. Is one of the world's leading integrated logistics service providers, is the global international trade and industrial products to provide land and sea transport and all integrated logistics services group. Nearly 60,000 employees are located in 1,500 offices around the world, with annual revenues of € 13.2 billion.
rank in the field
In Europe, as a company dedicated to road and rail transport, the global compact shipping network is connected to the major economic regions of more than 30 European countries.
On a global scale, global freight also has the same qualifications for land, sea and air transport and related logistics services. Relying on the global cargo distribution network and the effective cooperation with the shipping company, the global freight provides a wide range of logistics value-added services.
Ranking situation
European land traffic ranked first
Global airway ranked second
Global shipping ranked third
This time, DB Schenker RDM special visit to our wisdom power, is an important first step in our cooperation, and we become a long-term strategic partner, Help us better export trade. In the future Wisdom power transport battery more advantages, so that customers have the advantage of long-term cooperation.
Thank you for DB Schenker's attention to our company and we look forward to our long-term cooperation, We reached a very good strategic agreement. This is also a greater support for our company, to better serve our battery partners.