Pv solar market share in North America 2015
2015 First Solar, SunEdison, and SunPower accounted for 44% of the photovoltaic market in North America.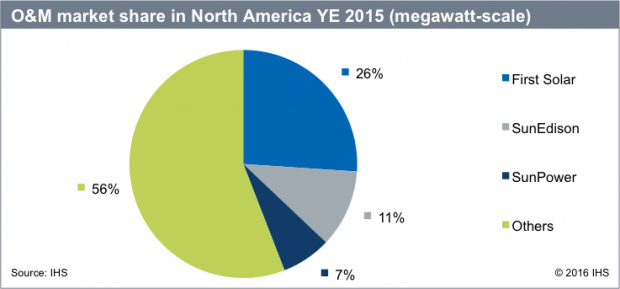 According to IHS Technology, three leading North American megawatt PV operation and maintenance suppliers account for 44% of the region's market in 2015.

First Solar accounted for 25% of North American solar market share, followed by SunEdison 11%, SunPower 7%. In view of SunEdison's bankruptcy and potential sale of its North American assets, other operations and maintenance suppliers have the opportunity to boost their portfolios.

IHS expects the North American megawatt-class PV operation and maintenance market to generate revenues of $ 300 million by 2015 - and is expected to increase to $ 1 billion by 2020.


As utility-scale PV projects become larger, operators will have to comply with higher standards set by the North American Electric Reliability Corporation (NERC). IHS expects that, according to NERC regulations, 2016-2017 is currently being developed in North America more than 7GW of photovoltaic, may decline.