What are ordinary lead batteries made of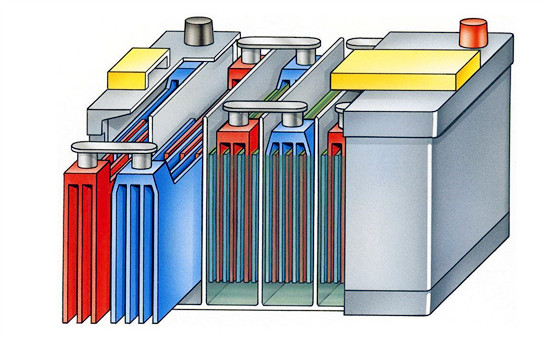 ---
The composition of lead-acid batteries: plates, separators, shells, electrolytes, lead joints, poles, etc.
1. Positive and negative plates
Classification and composition: The plates are divided into two types: a positive plate and a negative plate, both of which are composed of a grid and an active material filled thereon.
Lead acid battery schematic
Function: During the charging and discharging process of lead-acid batteries, the mutual conversion of electric energy and chemical energy is realized by the chemical reaction of the active material on the electrode plate and sulfuric acid in the electrolyte.
Color distinction: The active material on the positive electrode plate is lead dioxide (PbO2), which is dark brown; the active material on the negative electrode plate is spongy pure lead (Pb), which is blue-gray.
The role of the grid: containing the active material and shaping the plates.
Plate group: In order to increase the capacity of the lead-acid battery, a plurality of positive and negative plates are respectively connected in parallel to form a positive and negative plate group.
Special requirements for installation: The positive and negative plates are fitted to each other during installation, and the partition is inserted in the middle. In each of the unit cells, the number of negative plates is always one more than that of the positive plates.
2. Separator
Function: In order to reduce the internal resistance and size of the lead-acid battery, the positive and negative plates inside the battery should be as close as possible; in order to avoid short-circuit with each other, the positive and negative plates should be separated by a partition.
Material requirements: The separator material should have porosity and permeability, and the chemical properties should be stable, that is, it has good acid resistance and oxidation resistance.
Materials: Common separator materials are wooden separators, microporous rubber, microporous plastics, fiberglass and cardboard.
Installation requirements: The grooved side of the partition should face the positive plate during installation.
For more about custom manufacturer of VRLA battery products,please visit https://www.bullsbattery.com/